High Performance Toxin-Free Formula
100% Compostable
Certified Cruelty-free & Vegan
Soap Free
High quality essential oils
We give 1% to regreening the Planet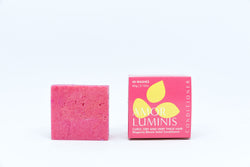 AmorLuminis
Solid Hair Conditioner ~ Magenta Bloom
Offers High Conditioning
Suitable for Dry Hair/ Thick and Very Curly Hair
BEST SELLER CONDITIONER
If dry hair is the bane of your existence, then give this conditioner bar a try before you allow yourself to slither down into the pitfalls of doom & despair!
Our Magenta Bloom Conditioner Bar has been formulated with a trifecta of nourishing, nurturing, and revitalising ingredients—Cocoa Butter and Shea Butter, both renowned nourishers for both hair and skin, combined with the stellar properties of revitalising and frizz-taming Argan Oil to bring all-round sustainable moisture and repair for your dried-out locks. Calendula Extract, at the heart of the formulation, comes along to soothe both your dried-out, itchy, and irritated scalp as well as your dehydrated hair strands.
Calendula Extract, its key effect is to soothe, it works to calm and help eliminate inflammation and irritation, and while fabulous in skincare, it also works just as well in hair care! Say goodbye to dry scalp with this blend—yes, you can even use this conditioner on your scalp (Goodbye, irritating no-no conditioner rule!). Itchiness from irritation and dried-out skin will be a thing of the past. Not just that, but it refreshes in a calming burst and also protects both the skin and the hair shaft, working effectively but also gently enough on all hair types.
Ingredients: Behentrimonium Methosulfate (Canola oil)1 2, Cetearyl Alcohol( from coconut)1, Cocoa Butter3, Shea Butter3,  Argan Oil3 , Panthenol, Calendula Extract3, Oat Protein3 4,Olive Esters1, Natural Preservative from Sorbitol1, Hydrogenated Ethylhexyl Olivate1 2, Hydrogenated Olive Oil1 2, Mica, Essential oils(Grapefruit Pink, Bergamot, Geranium, Lemon, Rosemary, Peppermint Yakima)3
1derived from natural, renewable raw materials and certified biodegradable
2Ecocert
3 certified organic
4GMO Free
Features
A bar weighs around 60g and provides 40 to 48 washes or more (depending on the length of your hair). This is worth 3 to 4 months' supply if you wash your hair twice per week. The Conditioner tends to last longer than 4 months, depending on the amount required it may last up to 7-8 months.
Compostable Cardboard Packaging printed with vegetable inks
No SLS & SLeS
pH Balanced & Soap Free
Plant based preservative – No Parabens
No Phthalates 
TIP: For smaller pieces of conditioner leftover, you can either squish it on your new bar or put it to sit for at least 30 mins in some distilled water or cooled boiled water and give it a little stir (ratio is 3 g conditioner for approx. 30 ml water). It will turn into liquid conditioner and can be used as such. 
FAQ
Q: Can I use this product if I have sensitive scalp
A: Absolutely, we use the gentlest ingredients and all our conditioners contain calendula extract to help soothe and calm the scalp.
Q: I have coloured hair, will it strip the colour
A: No, our products are colour safe and generally do not strip common hair dye/colour.
Q: I heard that conditioner should not be used on the scalp.
A: Our products have been designed to moisturise the scalp. As analogy, a face cream is recommended only after washing the face properly to allow the goodies to get into the skin. Similarly, our shampoos clean the scalp and our conditioners are the face cream equivalent, it will keep the scalp hydrated and healthy which will promote healthy hair.
Q: I have used a shampoo bar before and it messed up my hair, I am scared to try.
A: Not all shampoos are made equal, our bars are not a bar of soap, rather it is a small piece of sophistication that includes the best ingredients on the market that will gives amazing professional results similar or better than a bottled shampoo.
What others are saying:
"I have to admit that I was quite sceptical at using the 2 blobs on my hair! Certainly didn't know how much to use – may have over done it! The shampoo (Oceane) worked a treat – hair smells wonderful and is squeaky clean. The conditioner was a real eye-opener. My hair is soft and shiny. It's not looking limp and dull" ~ Paula
How to use: Swipe bar along the length of wet hair 3-4 times (please ensure the ends get enough product), massage on scalp and allow to act for 2-3 minutes before rinsing out.
To not overuse conditioner, after swiping the bar on wet hair, put head under running water for 2 seconds and continue to massage, it will help to gage how much more conditioner is needed.
Always keep bar dry after use to optimise number of washes.
For external use only. We recommend patch testing before use.
TIP: This is an extremely nourishing bar which can be used as a hair treatment once a month. especially for those who do not have Extremely dry hair.