High Performance Toxin-Free Formula
100% Compostable
Certified Cruelty-free & Vegan
Soap Free
High quality essential oils
We give 1% to regreening the Planet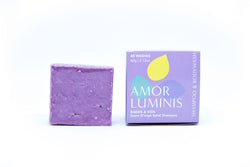 AmorLuminis
Solid Shampoo & BodyWash ~ Sucre D'orge
Sucre D'orge (French for Candy Cane)
2 in 1 Solid Bodywash and Shampoo
Suitable for Babies and Kids
Only the best, softest, and safest for your little bundle of joy, right? We totally agree!
Our special Baby shampoo & cleansing bar is soft, gentle, and mild enough to use on little one's delicate skin. Oat Protein works to calm and soothe the skin and scalp all while gently taking care of your tyke's feather-light mane. The Chamomile Extract, in this all-natural blend, has mild calming and sedative properties as well as being an effective yet still-mild-enough-for-baby anti-inflammatory.
Chamomile further continues its journey in this blend into the soft, sweet, and just amazingly kissable, clean-baby smell of this bar. Smooth & soothing top notes of Lavender & Chamomile blend in with a delicate touch of zesty Orange.
Also, we have a secret for you … This shampoo bar is just as effective on children's and adults' skin!
This is a no residue shampoo and is suitable for dreadlocks.
Ingredients:
Sodium Cocoyl Isethionate1, Sodium Cocoyl Glycinate1 2, Behentrimonium Methosulfate (Canola oil)1 5,Cetearyl Alcohol(from coconut)1,Panthenol, Oat Protein 3 4, Chamomile Extract3 , Shea butter3 , Natural Preservative from Sorbitol1, Hydrogenated Ethylhexyl Olivate1 2, Hydrogenated Olive Oil1 2,Mica, essential oils (Mandarin, Bergamot,  Lavandin Super)3
1derived from natural, renewable raw materials and certified biodegradable
2Ecocert
3certified organic
4GMO Free
Features
A bar weighs around 60g and provides 40 to 48 washes or more (depending on the length of your hair). This is worth 3 to 4 months' supply if you wash your hair twice per week. 
Compostable Cardboard Packaging printed with vegetable inks
No SLS & SLeS
pH Balanced & Soap Free
Plant based preservative – No Parabens
No Phthalates 
What others are saying:
"I use Sucre d'Orge for Maryam and as it's her first shampoo I cannot compare it to any shampoo I've used before but I can say her hair is much lighter as in not heavy. Moreover her hair used to tangle the next day if I didn't brush it but now it doesn't! Isn't that great! I also love the smell and so does Maryam. I wish we could use it now and not have to use another shampoo if we run out of Sucre d'Orge" ~ Maryam's Mummy
FAQ
Q: Can I use this product if I have sensitive scalp
A: Absolutely, we use the gentlest ingredients and all our conditioners contain calendula extract to help soothe and calm the scalp.
Q: I have coloured hair, will it strip the colour
A: No, our products are colour safe and generally do not strip common hair dye/colour.
Q: I heard that conditioner should not be used on the scalp.
A: Our products have been designed to moisturise the scalp. As analogy, a face cream is recommended only after washing the face properly to allow the goodies to get into the skin. Similarly, our shampoos clean the scalp and our conditioners are the face cream equivalent, it will keep the scalp hydrated and healthy which will promote healthy hair.
Q: I have used a shampoo bar before and it messed up my hair, I am scared to try.
A: Not all shampoos are made equal, our bars are not a bar of soap, rather it is a small piece of sophistication that includes the best ingredients on the market that will gives amazing professional results similar or better than a bottled shampoo.
Q: Do I need an apple cider vinegar rinse after using the shampoo.
A: No, the shampoos are not soaps, they are already on the acidic spectrum i.e. same like your skin. There is absolutely no need to use a vinegar rinse to rebalance the pH of your scalp.
How to use:
Shampoo: Rub 3-4 times (or as required) on wet hair or moistened palm of your hands, lather, massage on scalp and rinse.
Bodywash: Rub directly on body, hands, sponge or washcloth. Lather and gently rub all over the body and rinse off.
Always keep your bar dry after use to optimise number of washes.
For external use only. We recommend patch testing before use.